The demand for Mercedes-Benz trucks outside the traditional market is increasing. Take China as an example. In recent years, sales of Mercedes-Benz trucks have rapidly increased in this market. In 2007, China was the 17th largest global market for Mercedes-Benz trucks; this year, China has become the world's third largest import market for Mercedes-Benz trucks and has successfully ranked among the core markets of Mercedes-Benz trucks.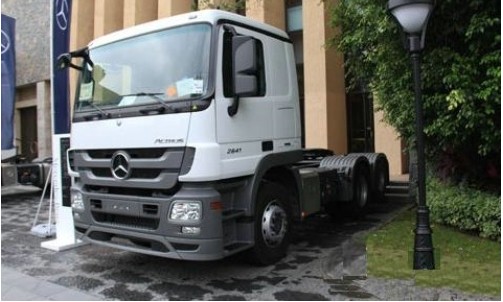 "Mercedes-Benz's high-end imported trucks are gaining popularity in many countries. Our strong product line can well meet the needs of this market segment." Hubertus, Head of Mercedes-Benz Truck Business Troska said, "This is mainly due to our high-quality, reliable products and perfect service. The rapid growth of demand for Mercedes-Benz truck products in markets such as China, Russia, and Saudi Arabia offsets the cyclical fluctuations in the European market and drives our business. Another powerful pillar of growth."

In 2012, Mercedes-Benz trucks will once again set a new record for sales in China. In 2011, sales of Mercedes-Benz trucks in China reached nearly 5,800 units. This year, Mercedes-Benz truck sales are expected to exceed 6,000 vehicles in the overall contraction of the Chinese heavy-duty truck market. Mercedes-Benz truck has become the leader in China's high-end imported truck segment in Europe and the United States, accounting for more than 50% of the market share. Next year, the Chinese truck market is expected to recover, and the increase is expected to exceed 10%. "Mercedes trucks will surely benefit from the market recovery," Troska said.

In recent years, Russia has also become an important market for Mercedes-Benz trucks. In 2007, Russia was the world's twentieth largest market for Mercedes-Benz trucks. With the continuous increase in sales in this market, Russia has become the sixth largest market for Mercedes-Benz trucks in the world.

Two major trends can be found in the rapidly growing truck market in China, India and Russia. First, local truck manufacturers are upgrading their best-selling truck models. This part is due to the consideration of increasingly stringent exhaust emission standards. Second, the increase in the demand for high-end trucks manufactured from European and American traditional markets. This is mainly due to the increasing demand for the reliability, economy, and durability of heavy trucks in emerging economies.

These trends are particularly evident in emerging markets such as China (the world's largest truck market), India (the third largest truck market in the world) and Russia (the largest truck market in Europe). Daimler Trucks supplies high-end and "domestic modern" trucks (best-selling trucks with advanced technology) to all these markets. At the same time, Daimler trucks also adopt different development strategies for different markets. Based on the principle of "global operation, local operation", Daimler Trucks can also make full use of the development opportunities brought about by its global layout. As a result, Daimler truck customers are always able to enjoy the best product lineup to meet their needs.

Daimler's joint venture with Foton Motor in China and the cooperation with Kamaz in Russia are both to meet the demand of the two major markets for domestically-made modern trucks. At the same time, the Mercedes-Benz high-end truck product business continues to expand in these two markets.
Guardrail Protection Anchor Drilling Rig
The guardrail rig machine is applicable to soil, clay, fill soil, silt, silt layer, and some strata contain pebbles, gravel; widely used in high-speed rail trestle piles, slop shield piles, photovoltaic power station foundation pile, power grids, civil construction, new rural construction, municipal construction, landscaping and other projects.

We will follow the normal and safe packing and transportation to ensure the safe arrival of the goods. We export to many countries, has rich experience in loading the drilling rig, export standard containers are 20GP, 40GP, 40HQ container, or FR in the case of bulk parts.

Guardrail drilling rig for Road and Bridge as well as the Dam and Tunnel Slope Construction Protection.
Guardrail drilling rig for Philippines,Vietnam,Australia,UAE , Egypt, Africa sale.
Guardrail Rig,Screw Rod Anchor Drilling Rig,Construction Spiral Rod Drilling Rig,Geophysical Prospecting Drilling Rig
Henan YikYui Prospecting Machinery Co., Ltd , https://www.yikyui-rig.com