On November 17, 2014, Dongfeng Yufeng's latest model, the bucket truck, was officially delivered to three units including the State Grid Gansu Electric Power Company and delivered a total of 14 vehicles. This is Dongfeng Yufeng's first batch of collective orders for construction vehicles. At the same time, the launch of the new model of bucket-type construction vehicles also indicates the growing fullness of the special-purpose vehicle series of Dongfeng Yufeng.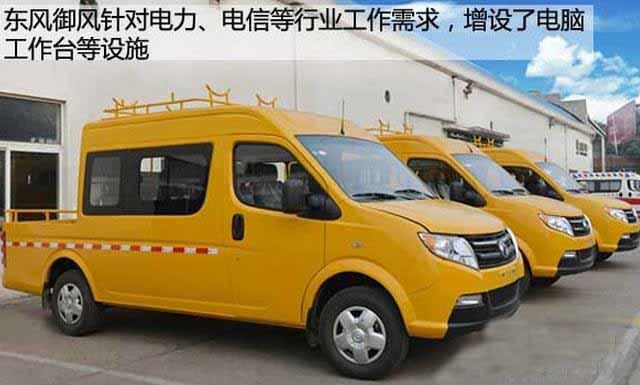 It is understood that the delivery of this type of bucket truck, in addition to the original wind outside Yufeng, for electricity, telecommunications and other industries work needs, the addition of computers, work stations and other facilities to facilitate the operators of the central command, communication and so on. The car has the advantages of leading technology, good passability, and perfect series, and can be widely used in electric power, oilfield, telecommunications, municipal, road rescue, water supply, cable television and other departments, and is an ideal vehicle for the installation and maintenance of related facilities. .
Up to now, the Dongfeng Yufeng Special Vehicle has covered police, medical, communications, and engineering industries. For different segments of the industry, it will also conduct targeted research and development and introduce different series of models. With the passage of time, Dongfeng Yufeng has achieved remarkable results in the field of special vehicles. In the future, it will continue to promote new products based on market demand, and strive to comprehensively cover the special vehicle market.
Leisuwash specializing in manufacture Automatic Car Wash Machine, Touchless Car Wash , Automatic Touchless Car Wash, touchless car wash equipment, robot car wash, smart car wash system, leisuwash 360, leisuwash leibao 360, laserwash 360, leisuwash touchless car wash machine, leisu wash touchless car wash automatic, leisu wash 360 high pressure touchless car wash equipment, robo car wash, touch free car wash, leisuwash 360 touch free car wash, leisuwash 360 price, automatic car wash price, leisuwash in malaysia, no touch automatic car wash machine.

Leisuwash 360 touchless car wash machine high intelligent high quality, with car wash + car care + drying process totally, each car wash takes time 1 minute to 5 minutes which depends on the car wash mode.
The contactless robotic automatic robot leisuwash 360 is the newest technology of contactless high-speed automatic washing of cars. Fully automated process of contour washing and drying of the car in combination with the technological capabilities of self-service (payment, choice of car wash programs) provide high-quality contactless washing services in the absence of staff.
Machine Car Wash,Leisuwash 360 Plus,Automatic Express Car Wash,Touchless Car Wash
Hangzhou Leisu Cleaning Equipment Co.,Ltd , https://www.sdtouchlesscarwash.com